Tuesday, December 10, 2002
Sasha & Nikolai - a Love Story
Sasha Natasha's Hope
born December 17, 2001
Nikolai Micha's Legacy
born October 15, 1998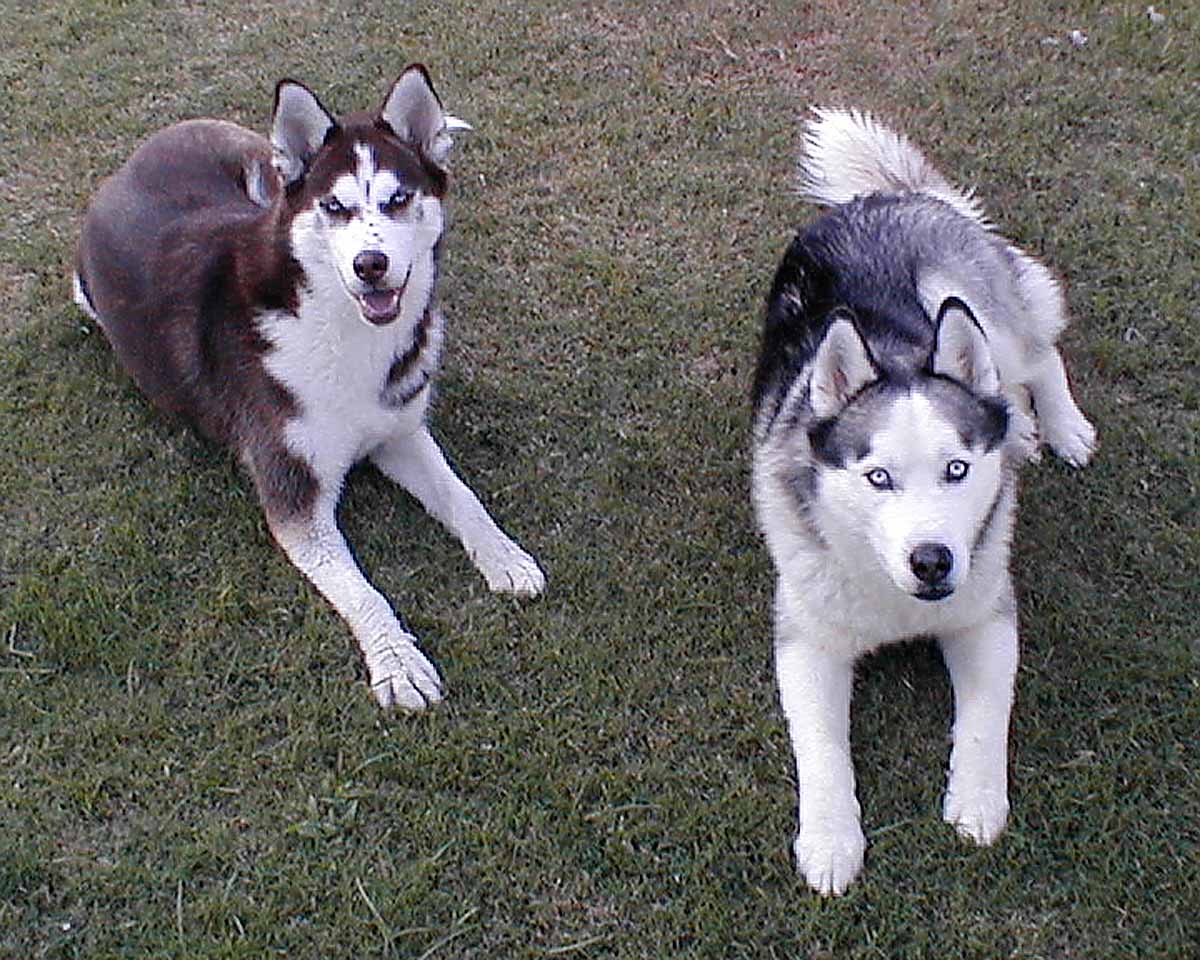 Sasha (right) & Nikolai (left)
*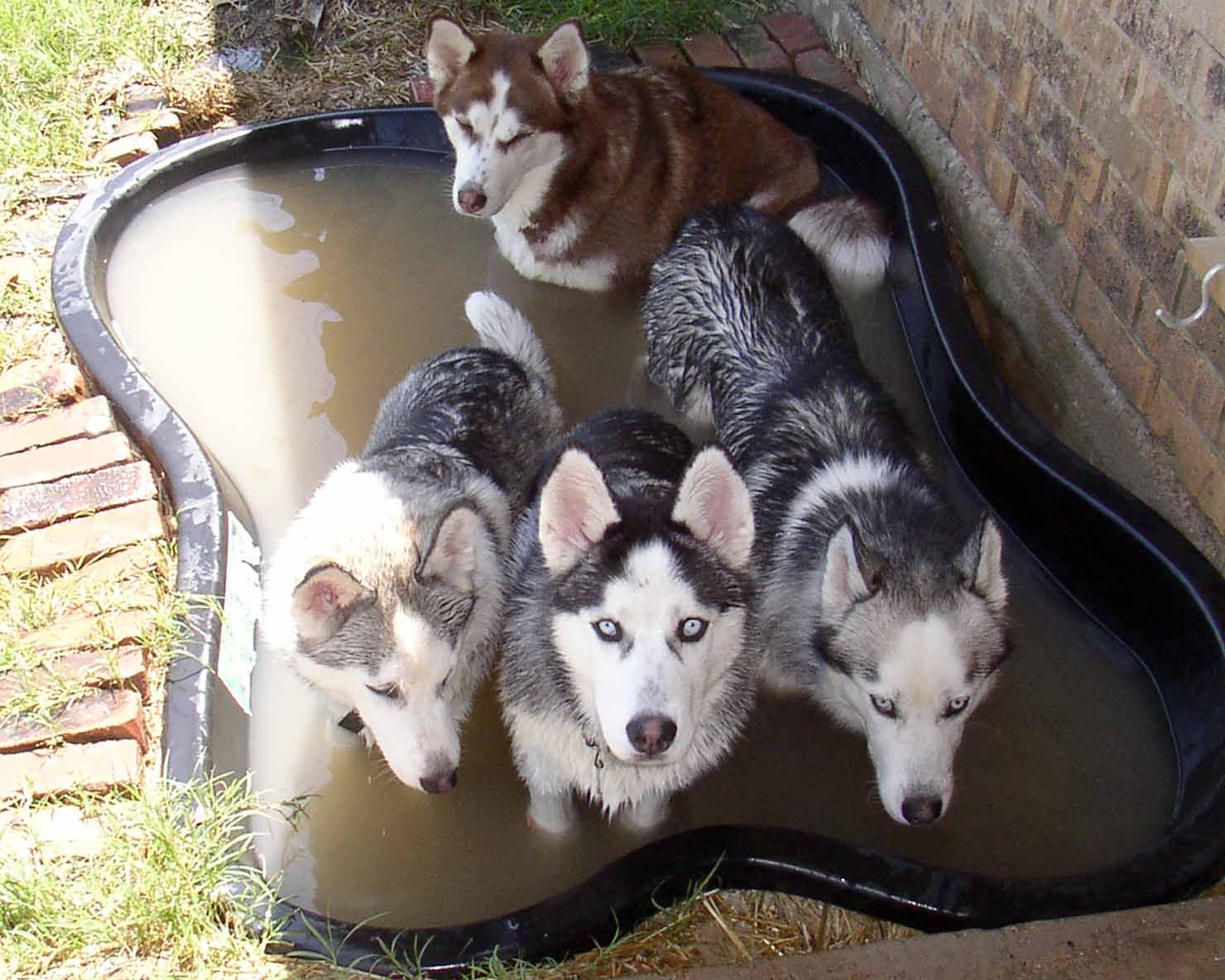 Puppy Anya (bottom-left), Puppy Alec (bottom-center), Daddy Nikolai (bottom-right) & Mama Sasha (top) in 2004
*
Sasha & Niki - Proud Parents
December 4 & 5, 2002
Born where ? - Moma's $550 Whelping Box Condo: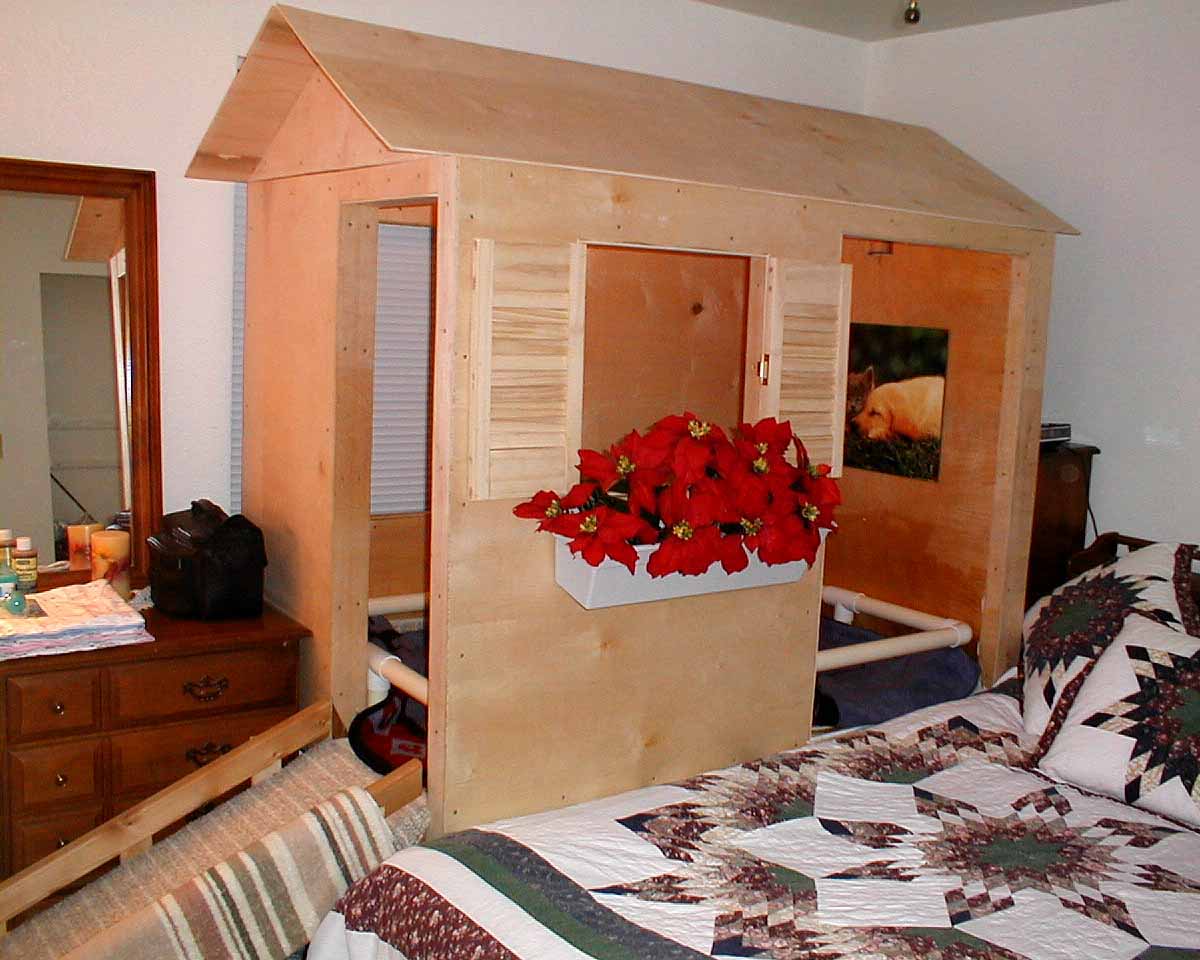 Who was born?
Moma Sasha gave birth to her 1st baby at 11:37 p.m. on December 4, 2002, the other 6 puppies were born between 2:20 a.m. and 6:37 a.m. December 5, 2002.
Sasha & Nikolai have:
2 Gray/White Girls
1 Black/White Girl
1 Gray/White Boy
either?:
3 Black/White Boys
or:
2 Red/White Boys
& 1 Black/White Boy
Thank you, to everyone that participated in Sasha & Niki's journey into parenthood and in particular to the members of the Husky-4-Life group at yahoogroups.com who were with us even during every minute of Sasha's 7+ hours of labor and delivery!
More Photos:
The Whelping Box/Condo: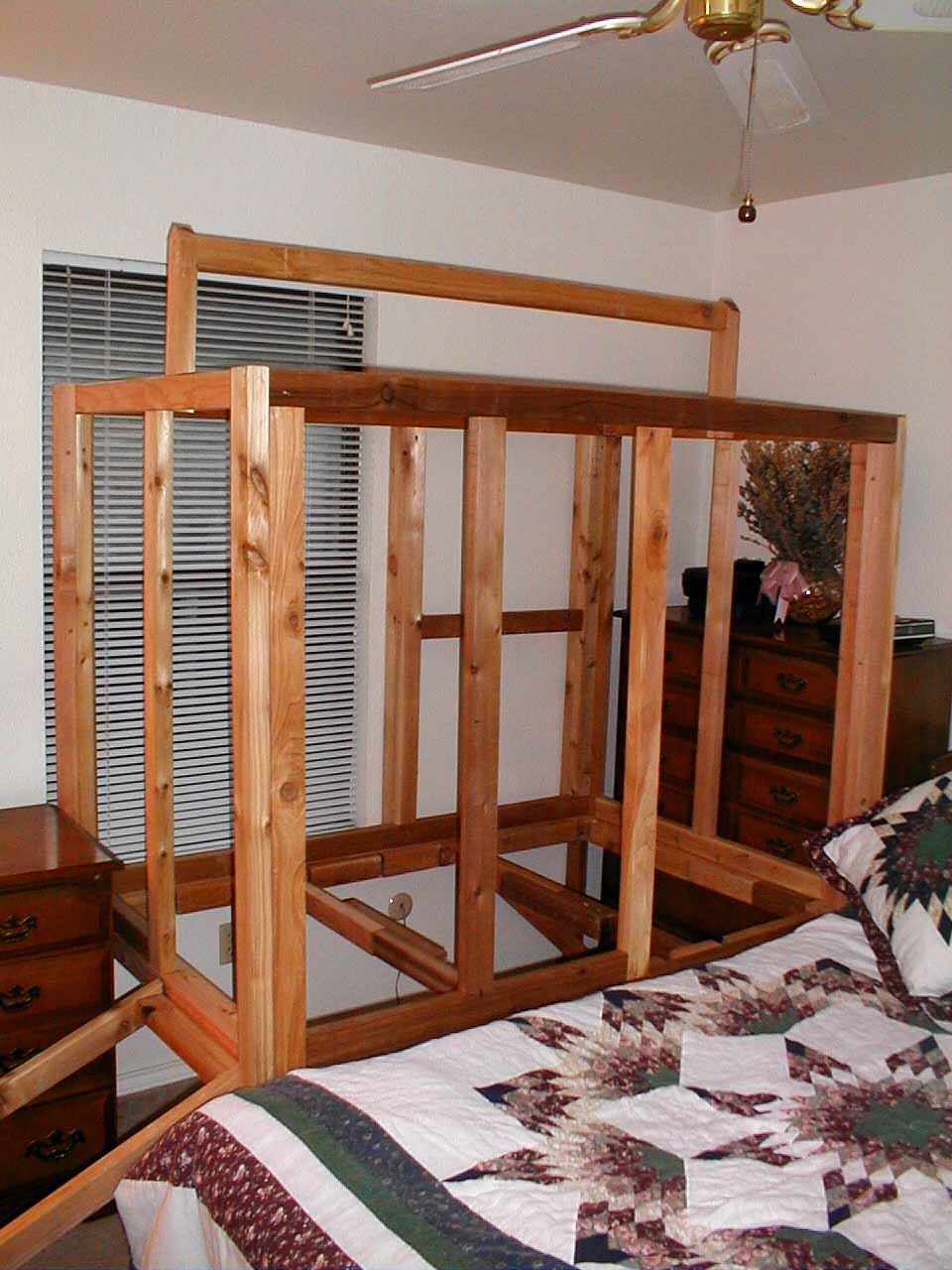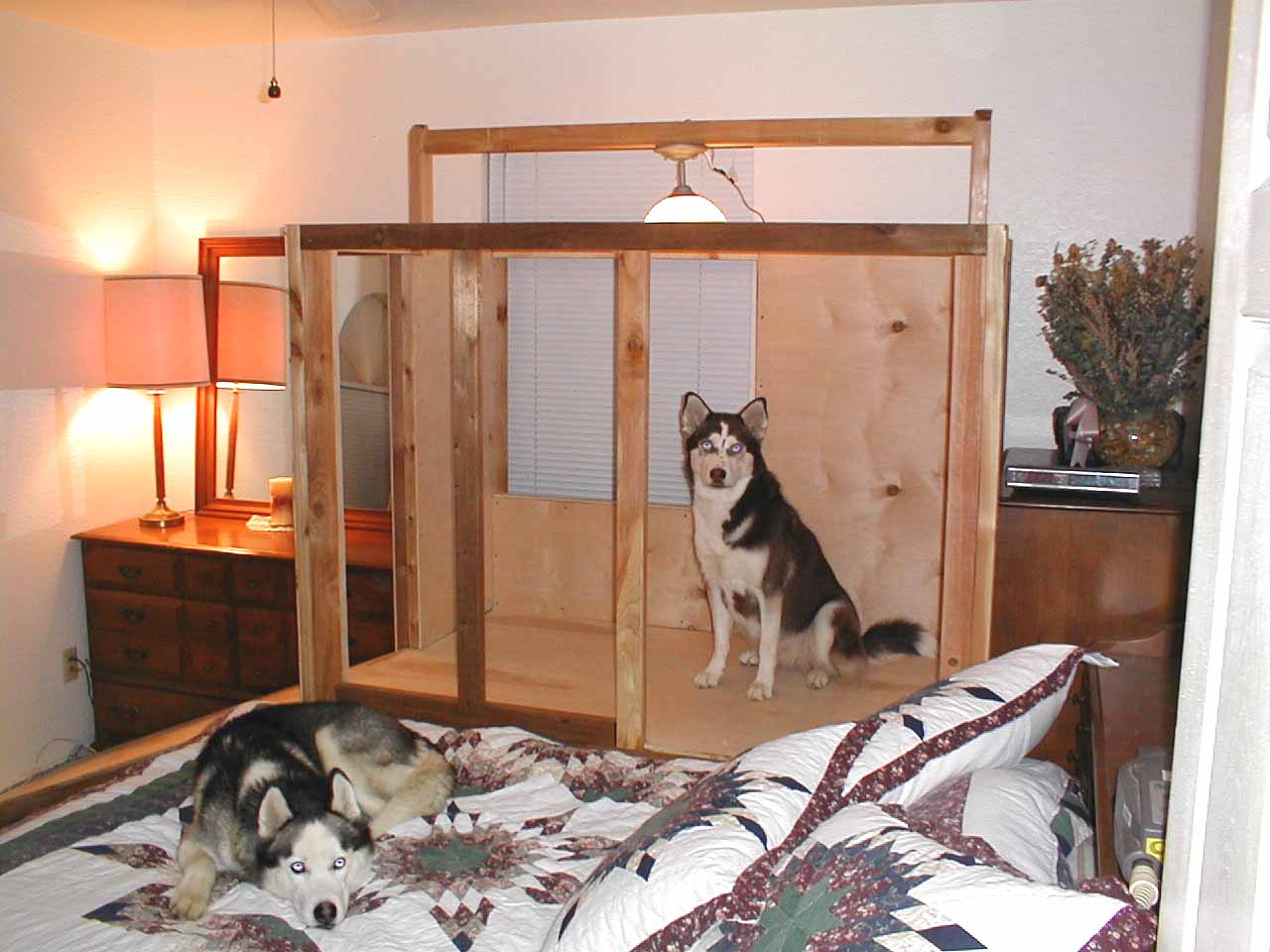 Pregnant Sasha on a Sofa Break:
Thanksgiving Day, 2002 & Sasha's Birthday/Puppy Shower at Don & Mary Conley's house (Ron's identical twin brother):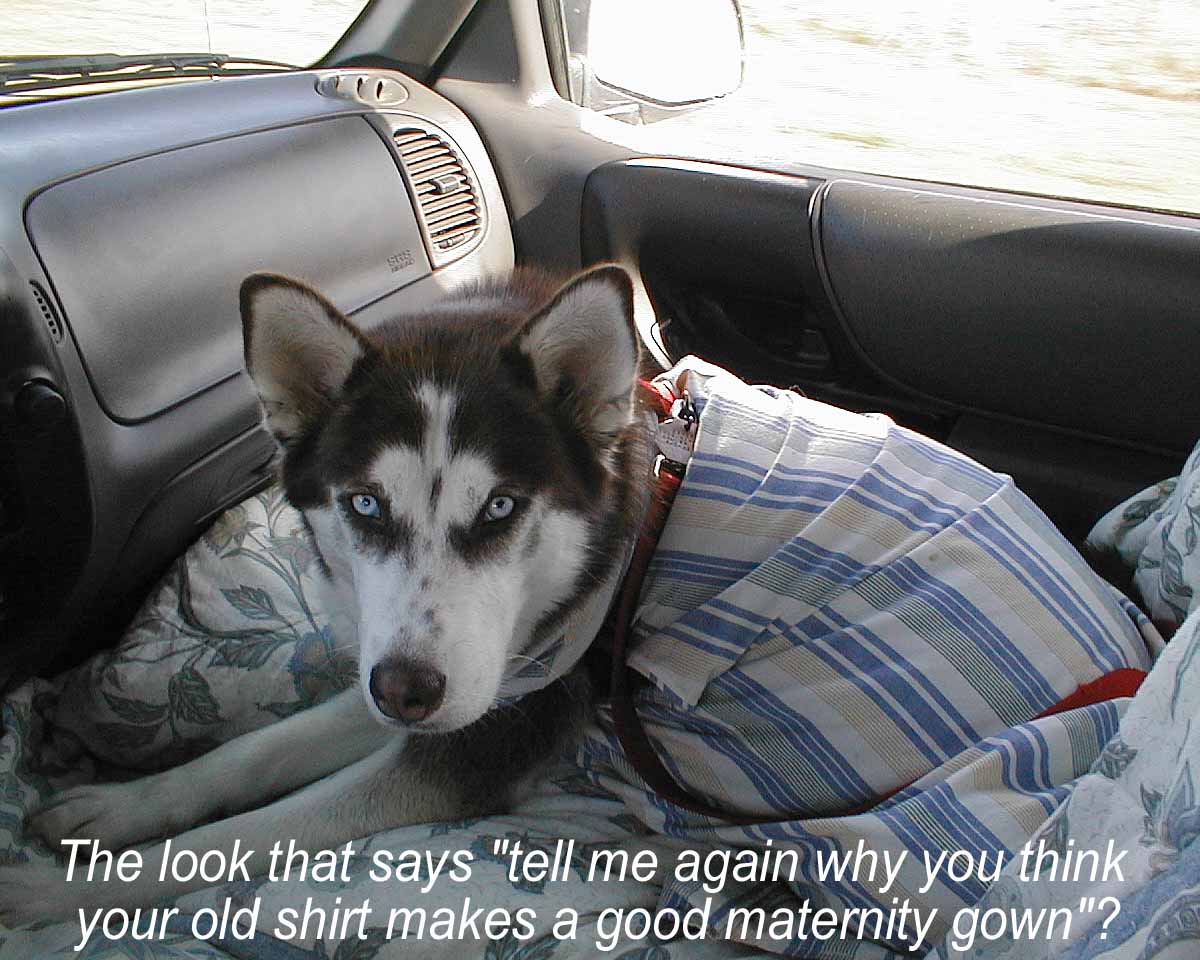 Sasha's traveling outfit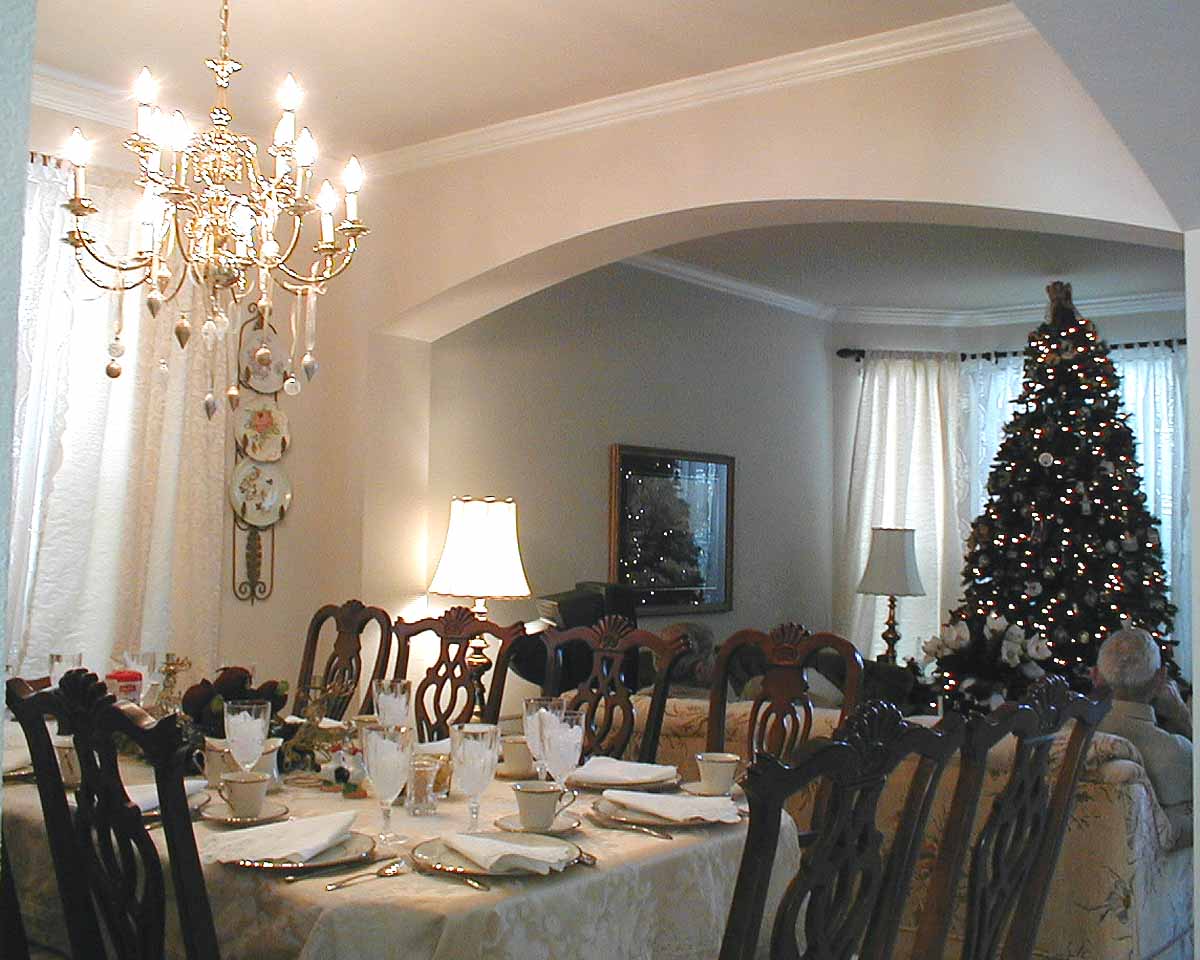 Thanksgiving Table is Set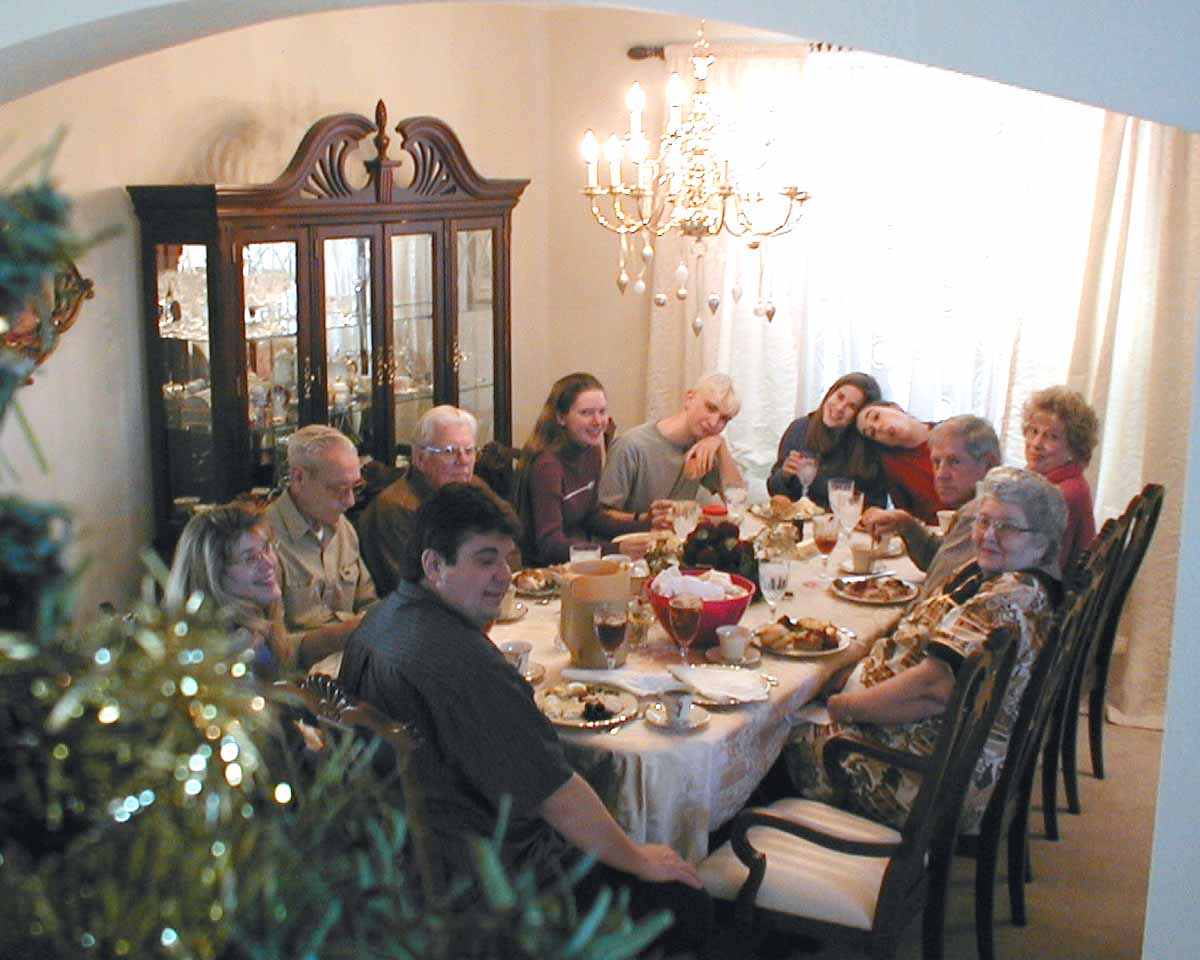 Thanksgiving humans eat while doggie guests visit outside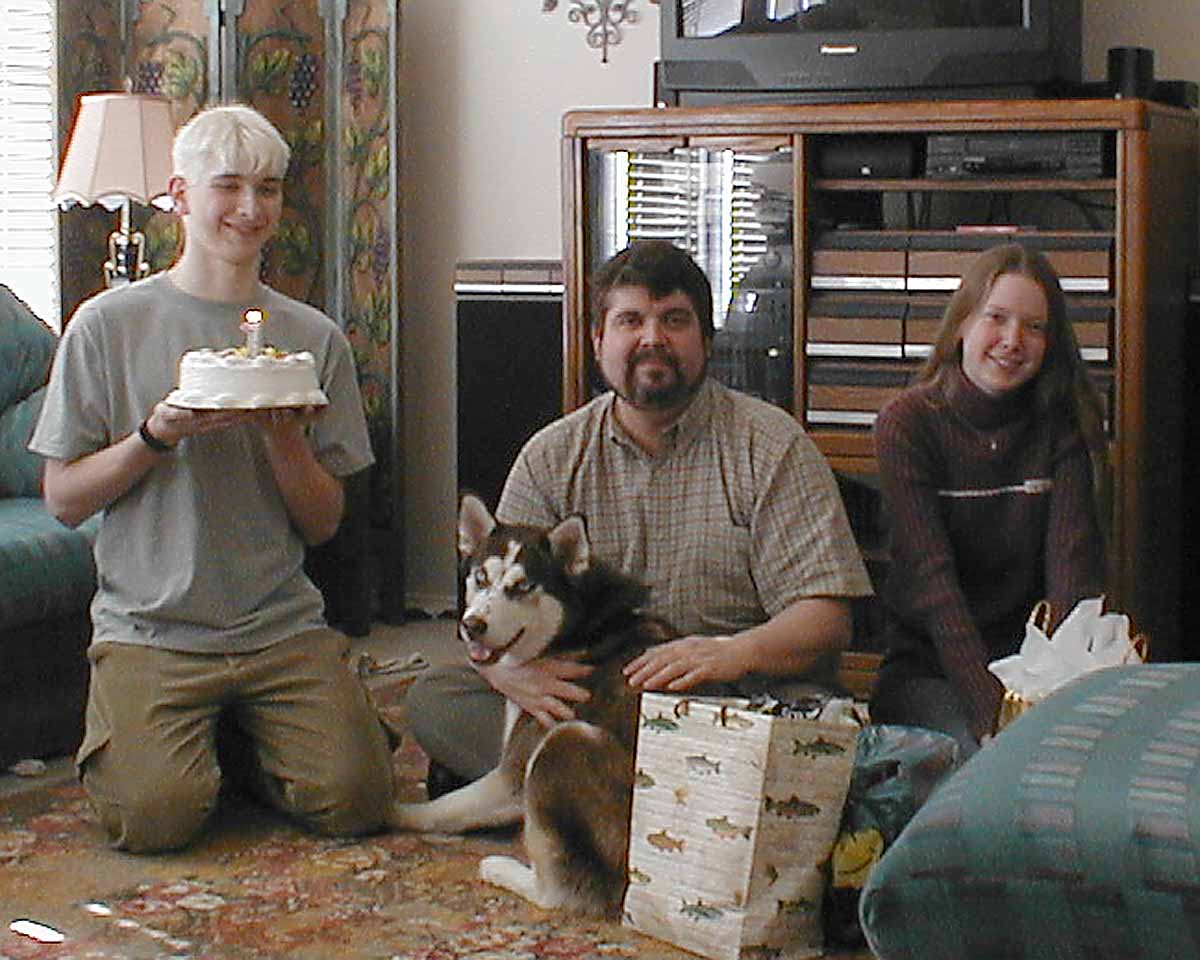 Matt (with cake), Sasha & Uncle Ron, & Melissa at the Puppy Shower / Birthday Party
Matt & Uncle Ron on the sideline while Sasha & Melissa discuss whose presents these really are!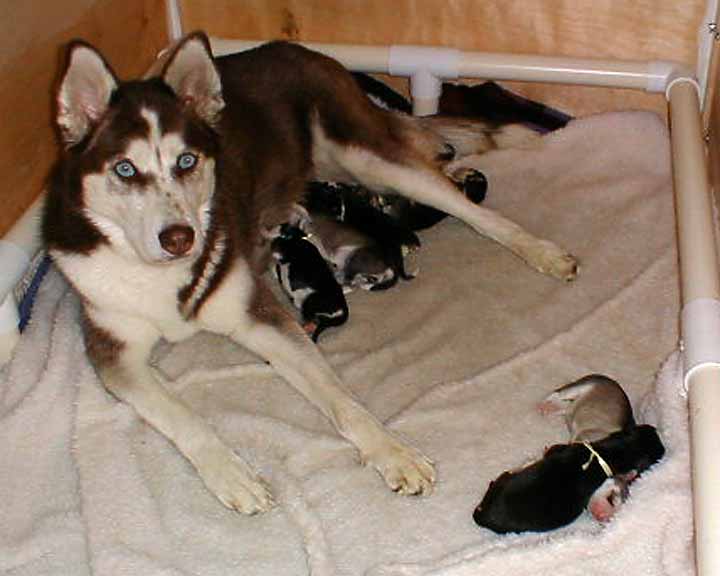 Moma Sasha around 7 a.m. December 6, 2002 - Very Tired!
After Delivery - a feeding frenzy of puppies, Moma says, "I quit":
New Puppy Pictures: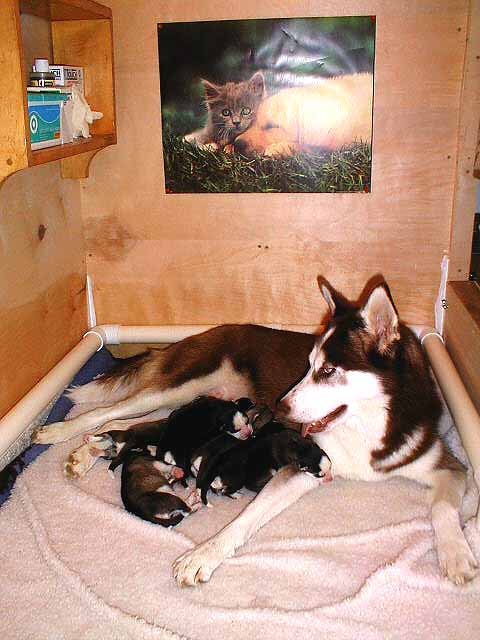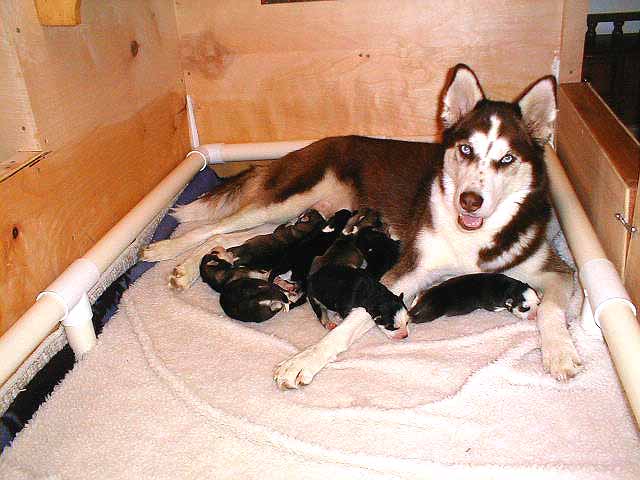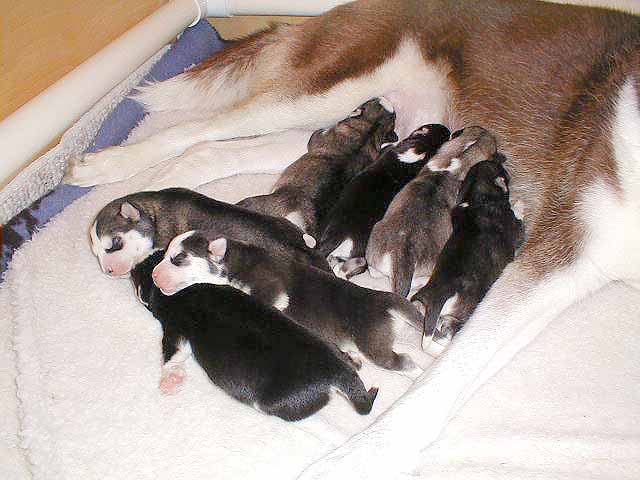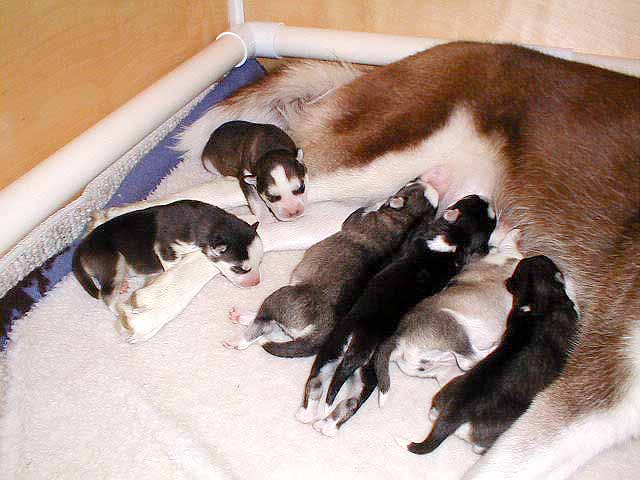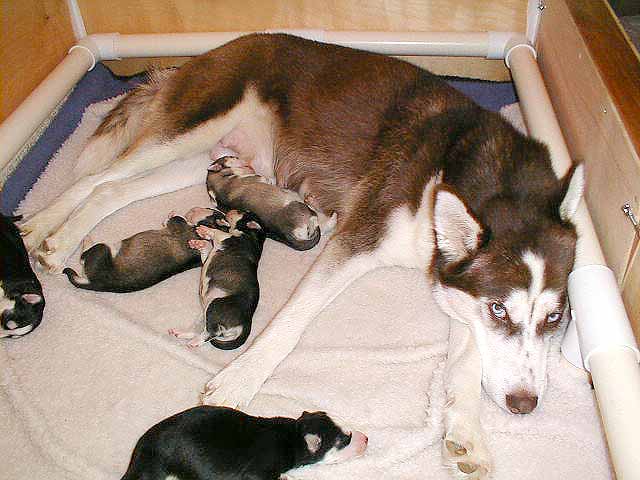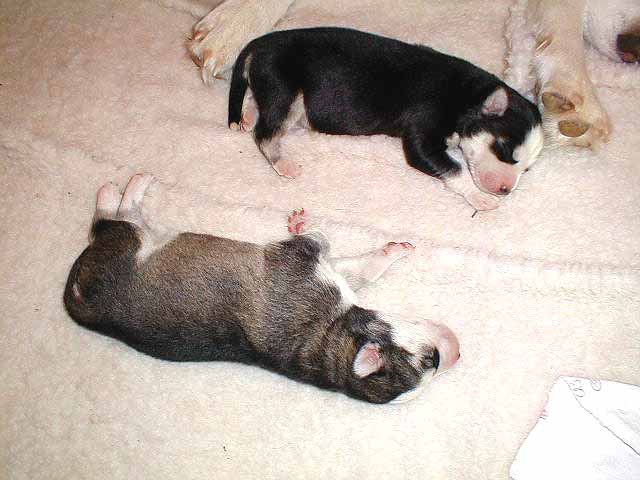 Natasha's Cancer Fight Newsletter
Shilo's Tale | Jesse's Story | Misty's Journey | Niki's Odyssey | Doggie Dinner | CRF Canine Renal Failure | Vaccinosis Story
Sasha & Nikolai | Sasha Blows Coat | Niki Turns Five | Our Past Siberian Huskies
This page was last updated on October 18, 2006